Apple'ın yaklaşan 2022 iPhone'ları hakkında bildiğimiz her şey.
Bir Bakışta
Söylentiler Apple'ın 2022 iPhone'ları delikli kamera, A16 çip, gömme arka kameralar ve daha fazlasıyla çentiksiz bir ekrana sahip olacak.

Söylenti Özellikler

6.1 ve 6.7 inç boyutları

çentik yok

Hap şeklindeki kamera deliği

Arka kamera çarpması yok

A16 çip

Qualcomm X65 modemi



2022 iPhone 14 modellerinin piyasaya sürülmeye hazır olmasına daha birkaç ay var, ancak bu cihazlar için yapılan çalışmalarda çok önemli güncellemeler olduğu için, iPhone 13 modelleri gelmeden çok önce onlar hakkında söylentiler duyuyoruz. dışarı.
2022'de iPhone boyutları değişiyor ve Apple, müşteriler arasında popüler olmadığı ortaya çıktığı için 5.4 inç iPhone mini'yi kaldırıyor . İPhone mini satışlarının cansız olduğunu gördükten sonra Apple, amiral gemisi cihazları için daha büyük iPhone boyutlarına odaklanmayı planlıyor ve 6.1 inç iPhone 14, 6.1 inç iPhone 14 Pro ve 6.7 inç iPhone 14 Max görmeyi bekliyoruz. ve 6,7 inç iPhone 14 Pro Max.
2017'den beri Face ID'li iPhone'ların ön tarafında yüz tarama için gerekli tüm donanımları barındıran bir çentik vardı, ancak iPhone 14'ün piyasaya sürülmesiyle bu durum değişecek. 2022 iPhone 14 Pro modellerinin çentiği ortadan kaldırması bekleniyor. yeni bir tasarım lehine. Söylentiler şu anda biraz karışık, ancak görünüşe göre Apple, kamera için dairesel bir delik delme ile bazı Face ID bileşenlerini barındırmak için hap şeklinde bir kesim ile eşleştirilmiş bir kombinasyonla gidecek. Bu özellik ne yazık ki Pro modelleriyle sınırlı kalacak ve standart iPhone 14 modellerinde standart bir çentik yer almaya devam edecek.
Arka kamera, Apple'ın kamera çarpmasının ortadan kaldırılmasına izin veren daha kalın bir gövde sunan yeni bir tasarımı da görebilir. Eğer bu işe yaramazsa, lensler, flaş ve LiDAR tarayıcı arka camla aynı hizada olabilir, ancak bunun olabileceğine dair yalnızca bir söylenti duyduk.
Yeni iPhone'lardan bazıları titanyum çerçeveye sahip olabilir ve yeniden tasarlanmış hoparlör ve mikrofon ızgaraları da bir olasılık. Apple, daha hızlı çiplerin ve 5G bağlantısının etkisini en aza indirmek için iPhone'u daha serin tutacak yeni bir buhar odası termal sistemi de kullanabilir.
Yeni iPhone'lar her zaman kamera iyileştirmeleri içerir ve iPhone 14 de bir istisna değildir. Ultra Geniş kamerada iyileştirmeler olacak ve Apple'ın çok daha fazla optik yakınlaştırmaya izin veren bir "periskop" yakınlaştırma lensi tanıtma olasılığı var, ancak bunun 2022'de mi yoksa 2023'te mi geleceği henüz belli değil. Pro iPhone modeller ayrıca 48 megapiksel kameralar ve 8K video kayıt yetenekleri alabilir.
Söylentiler, iPhone 14 modellerinin iPhone 13 serisinde tanıtılan aynı A15 yongasını kullanmaya devam edeceğini, iPhone 14 Pro modellerinin ise güncellenmiş bir A16 yongası alacağını gösteriyor.
Apple'ın, daha hızlı bağlantı hızlarına ve bağlantı iyileştirmelerine sahip ilk 10 gigabit 5G modem olan Qualcomm'un Snapdragon X65 yongasını kullanması bekleniyor. Apple'ın X65'in yanı sıra, kullanıcıların acil durumlarda metin göndermesine ve hücresel kapsama alanı olmadan kazaları bildirmesine olanak tanıyan uydu tabanlı yeni acil durum özelliklerini tanıtması bekleniyor.
Çentiksiz ve Yeni Yüz Kimliği Donanım Tasarımı (Yalnızca Pro)
En azından bazı iPhone 14 modellerinde Apple, Face ID için gereken donanımı barındıran çentiği ortadan kaldırmak için çalışıyor. Çentik, 2017'de tanıtıldığında tartışmalı bir tasarım kararıydı ve o zamandan beri iPhone 13'teki boyut değişikliği dışında çok az değişti.
Apple analisti Ming-Chi Kuo , Mart 2021'de 2022 iPhone modellerinde çentik olmayacağını ve bunun yerine birçok Android telefonda popüler olan delik delme tarzı bir tasarımı benimseyeceğini söyledi.
Kuo'nun tahmininden bu yana, iPhone 14 Pro modellerinin ön tasarımını biraz daha az netleştiren başka söylentiler var.
Sızdıran Dylandkt, iPhone 14 Pro modellerindeki kamera kesiminin delikli bir tasarımdan ziyade
hap şeklinde olacağını söyledi
.
Ekran analisti Ross Young daha
da netleştirdi ve
hem hap şeklinde bir kesik hem de dairesel bir kesik
görmeyi beklediğini söyledi
.
Dairesel kesim muhtemelen Face ID nokta projektörünü barındıracak ve hap şeklindeki kesik ön kamera, Face ID kızılötesi kamera ve muhtemelen diğer bileşenleri içerecek.
Apple ayrıca , gerekli kesiklerin boyutlarını azaltacak ve cihazın ön tarafında daha fazla kullanılabilir ekran alanı bırakacak olan Face ID donanımının bir kısmını iPhone ekranının altına yerleştirmeyi planlıyor olabilir . Hem analist Ross Young hem de Bloomberg'den Mark Gurman, Apple'ın ekran altı bir Face ID çözümü üzerinde çalıştığını , ancak 2022 cihazlarında kullanıma hazır olmama ihtimalinin bulunduğunu söyledi .
Barclays analistleri, Apple'ın Face ID için öne bakan TrueDepth kamera dizisinde önemli değişikliklere izin verecek lazer tabanlı bir uçuş süresi mimarisi benimsemeyi planladığını iddia ediyor ve diğer söylentiler, tek gövdeli bir lens tasarımına işaret ediyor . ön kamera modülünün boyutunda bir azalma.
ProMotion Ekranı
2022'de gelen dört iPhone 14 modelinin hepsinin 120 Hz'ye kadar yenileme hızlarına sahip ProMotion ekranlar sunabileceğini öne süren erken iPhone 14 söylentileri vardı , ancak bu olmayacak gibi görünüyor.
Apple'ın ProMotion teknolojisini iPhone 14 Pro modelleriyle kısıtlaması muhtemel . Young, 120Hz yenileme hızlarının bir iPhone 14 Pro özelliği olarak kalacağına inandığını açıkça belirtti.
Koreli web sitesi Elec , gelecek yıl gelecek iPhone modellerinden en az birinin, Young'ın açıklamalarını destekleyen 120Hz ProMotion teknolojisi olmayan standart bir LTPS OLED ekran kullanacağını söyledi. Analist Jeff Pu, özelliğin tüm iPhone 14 modellerine geleceğini iddia etse de güvenilirliği ile bilinmez.
Gövde Tasarımı
iPhone 14 modellerinin aynı düz kenarlı tasarıma sahip iPhone 13 modellerine benzemesi bekleniyor. Sızdıran Jon Prosser, Apple'ın arka kamera çıkıntısı ve yuvarlak ses düğmeleri olmayan daha kalın bir kasa sunacağını iddia etti, ancak daha sonraki söylentilere ve sızıntılara dayanarak verdiği bilgiler yanlış gibi görünüyor.
iPhone 14 modellerini tasvir ettiği iddia edilen görseller Mart ayında ortaya çıktı ve görseller, standart iPhone 14 modellerinde iPhone 13 modelleriyle aynı görünüme sahip hiçbir tasarım değişikliği olmayacağını gösteriyor. Çapraz kamera düzeni ile arkada tamamen aynı kamera çıkıntısı ile birlikte standart bir çentik olacak.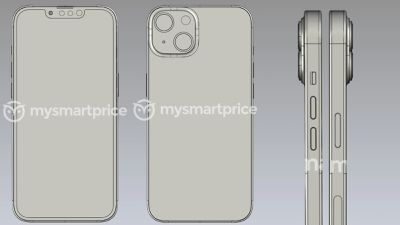 Boyut Seçenekleri
2022'de 5.4 inç iPhone olmayacak çünkü Apple, cansız satışların ardından "mini" serisini kaldırıyor. iPhone 13 mini mini telefonların sonuncusu olacak ve bundan sonra Apple'ın daha büyük boyutlu iPhone'lara odaklanması bekleniyor .
6.1 inç iPhone 14, 6.1 inç iPhone 14 Pro, 6.7 inç iPhone 14 Max ve 6.7 inç iPhone 14 Pro Max ve mini modelin yerini alan daha büyük 6.7 inç iPhone ile bekliyoruz.
Titanyum
JP Morgan Chase'den bir yatırımcı raporuna göre, Apple'ın yaklaşmakta olan iPhone 14 modellerinin de yüksek kaliteli titanyum alaşımlı kasa tasarımıyla gelmesi bekleniyor . Apple, Apple Watch için titanyum kullandı, ancak bu, malzemenin bir iPhone için ilk kez kullanıldığı anlamına geliyor.
Titanyum çizilmeye karşı daha dayanıklıdır ve hem çelikten hem de alüminyumdan daha güçlüdür, ayrıca korozyona karşı daha dayanıklıdır.
Soğutma
2022'den itibaren, üst düzey iPhone modellerinin, Apple'ın "agresif bir şekilde test ettiği" söylenen bir buhar odası termal sistemini benimsemesi muhtemel . Daha güçlü bilgi işlem güçleri ve daha hızlı 5G bağlantı hızları nedeniyle üst düzey iPhone'lar için VC termal sistemi gerekli olacaktır. Halihazırda Samsung, Razer ve LG gibi şirketlerin, yoğun stres altındayken bir cihazı daha serin tutmak için kullanılan buhar odası soğutma teknolojisini kullanan akıllı telefonları var.
Buhar odası termal sisteminin Apple'ın yüksek gereksinimlerini karşılayıp karşılamadığı belli değil, ancak Apple bunu geliştirmek için çalışıyor ve üst düzey modeller yakın gelecekte bunu benimseyebilir.
Yıldırım Limanı
Apple'ın, MagSafe üzerinden yapılan şarj ile portsuz bir tasarım için iPhone'dan Lightning portunu kaldırmayı hedeflediğine dair söylentiler vardı, ancak bu teknolojinin 2022 iPhone modellerinde tanıtılıp tanıtılmayacağı belli değil.
En azından bazı iPhone'lar Lightning bağlantı noktasına sahip olmaya devam edecek.
Kamera Teknolojisi
Tüm 2022 iPhone'lar Ultra Geniş kamerada iyileştirmeler görebilir ve Apple'ın 10x'e kadar optik yakınlaştırmaya izin verebilecek "periskop" lens teknolojisini tanıtması gibi zayıf bir olasılık vardır.
Diğer akıllı telefon markaları zaten periskop lens teknolojisini benimsedi, ancak Apple'ın, teknolojinin çoğunun diğer şirketlere ait patentler tarafından korunduğu için bazı sorunlarla karşılaştığı iddia ediliyor. Apple, Samsung gibi bir üreticiden teknoloji lisansı alabilir veya kendi çözümü üzerinde çalışmaya devam edebilir. Ne yazık ki periskop lens teknolojisi 2022'de piyasaya sürülmeye hazır olacak gibi görünmüyor ve bunun yerine 2023'te iPhone 15 modelleriyle gelebilir .
Periskop lens teknolojisi 2022 lansmanı için hazır olmasa da telefoto lens geliştirmeleri devam ediyor. Apple analisti Ming-Chi Kuo, Apple'ın telefoto kamerayı 6 elemanlı bir lensten 7 elemanlı bir merceğe yükselteceğini söyledi.
Kuo ayrıca , 2022 Pro iPhone modellerinin 48 megapiksel Geniş kameraya sahip olacağına inanıyor, bu da mevcut 12 megapiksel kamera ve 8K video kayıt yetenekleri üzerinde büyük bir gelişme olacak.
iPhone 14 Pro modellerinde bulunan 48 megapiksellik kamera, muhtemelen piksel gruplandırma olarak bilinen bir işlemle 12 megapiksellik çekimler de yapabilecek . Piksel gruplama, gelişmiş düşük ışık hassasiyeti için kameranın görüntü sensöründeki birden çok küçük pikselden gelen verileri tek bir "süper piksel"de birleştirir.
Bu özellik sayesinde iPhone 14 Pro modelleri, aydınlatmanın iyi olduğu durumlarda tam 48 megapiksel fotoğraflar çekebilir, ancak aydınlatma zayıf olduğunda, avantaj sağlayan daha yüksek kaliteli 12 megapiksel fotoğraf için piksel gruplama işlemini kullanır. 48 megapiksel lensin.
Kuo, 8K video kayıt özelliğinin, 8K ekranda veya TV'de görüntülenen iPhone tarafından kaydedilen videoların "daha iyi bir kullanıcı deneyimi" sağlamasına olanak sağlayacağına ve bu çözünürlüğün iPhone'un artırılmış ve karma gerçeklik için daha uygun videolar ve görüntüler oluşturmasına olanak sağlayacağına inanıyor. Apple'ın 2022 için geliştirmekte olduğu AR/VR başlığı gibi cihazlar.
6.1 inç iPhone 14, 6.1 inç iPhone 14 Pro, 6.7 inç iPhone 14 Max ve 6.7 inç iPhone 14 Pro Max ve mini modelin yerini alan daha büyük 6.7 inç iPhone ile bekliyoruz.
Titanyum
JP Morgan Chase'den bir yatırımcı raporuna göre, Apple'ın yaklaşmakta olan iPhone 14 modellerinin de yüksek kaliteli titanyum alaşımlı kasa tasarımıyla gelmesi bekleniyor . Apple, Apple Watch için titanyum kullandı, ancak bu, malzemenin bir iPhone için ilk kez kullanıldığı anlamına geliyor.
Titanium is more scratch resistant and it's stronger than both steel and aluminum, plus it's more corrosion resistant.
Cooling
Starting in 2022, high-end iPhone models are likely to adopt a vapor chamber thermal system, which Apple is said to be "aggressively testing." The VC thermal system will be required for the high-end iPhones due to their stronger computing power and faster 5G connection speeds. There are already smartphones from companies like Samsung, Razer, and LG that use vapor chamber cooling technology, which is used to keep a device cooler when it is under heavy stress.
It is unclear if the vapor chamber thermal system will meet Apple's high requirements, but Apple is working on improving it and high-end models could adopt it in the near future.
Lightning Port
There have been rumors that Apple is aiming to remove the Lightning port from the iPhone for a portless design with charging done over MagSafe, but it's not clear if that technology will be introduced with the 2022 iPhone models.
At least some of the iPhones coming will continue to feature a Lightning port.
Camera Technology
All of the 2022 iPhones could see improvements to the Ultra Wide camera, and there's a slim possibility that Apple will introduce "periscope" lens technology that could allow for optical zoom up to 10x.
Other smartphone brands have already adopted periscope lens technology, but Apple has allegedly run into some issues because much of the technology is guarded by patents owned by other companies. Apple could license technology from a manufacturer like Samsung, or continue to work on its own solution. Unfortunately, it's not looking like periscope lens technology will be ready for release in 2022, and it could instead come in 2023 with the iPhone 15 models.
Even if periscope lens technology is not ready for a 2022 launch, there are still telephoto lens improvements coming. Apple analyst Ming-Chi Kuo says says that Apple will upgrade the telephoto camera from a 6-element lens to a 7-element lens.
Kuo also believes that the 2022 Pro iPhone models will feature a 48-megapixel Wide camera, which would be a major improvement over the current 12-megapixel camera, and 8K video recording capabilities.
The 48-megapixel camera in the iPhone 14 Pro models will also be able to take 12-megapixel shots, likely through a process known as pixel-binning. Pixel binning merges data from multiple smaller pixels on the camera's image sensor into one "super-pixel" for improved low-light sensitivity.
With this feature, the iPhone 14 Pro models may be able to take full 48-megapixel photos in situations with good lighting, but when lighting is poor, it will use the pixel binning process for a higher-quality 12-megapixel photo that takes advantage of the 48-megapixel lens.
Kuo believes that the 8K video recording feature will allow iPhone-recorded videos displayed on an 8K display or TV to provide "a better user experience," and that this resolution will allow the iPhone to create videos and images more suitable for augmented and mixed reality devices like the AR/VR headset that Apple has in development for 2022.
A16 Chip
New iterations of the iPhone typically come with an updated A-series chip, but Apple might deviate from standard operating procedure this year. According to Apple analyst Ming-Chi Kuo, only the iPhone 14 Pro models will get a new and faster A16 chip.
Kuo says that the standard iPhone 14 models will continue to use the same A15 Bionic that's in the iPhone 13 models, marking a significant differentiation between the Pro and non-Pro iPhones in 2022.
The A16 chip designed for the iPhone 14 Pro models will reportedly be built on TSMC's "NP4" process, which the company says is the third major enhancement of the 5-nanometer family.
RAM
According to Ming-Chi Kuo the iPhone 14 and iPhone 14 Pro models will feature 6GB RAM, which is the same amount of RAM available in the iPhone 13 Pro models.
Car Crash Detection
Apple is working on a car crash detection feature for the iPhone and the Apple Watch, which could come out in 2022. It will use sensors like the accelerometer to detect car accidents when they occur by measuring a spike in gravitational force.
When a car crash is detected, the iPhone or the Apple Watch would automatically dial emergency services to get help. Since it's planned for 2022, this could be a feature designed for the iPhone 14 models and the Apple Watch Series 8, though it's not likely to be limited to those devices. It will be an expansion of the Fall Detection feature that's in existing Apple Watch and iPhone models.
Snapdragon X65 Modem
The iPhone 14 models will use the Qualcomm Snapdragon X65 modem, which is the world's first 10 Gigabit 5G modem and antenna system for smartphones.
RF Chip
Taiwan's Economic Daily News has suggested that Apple has ordered 5G radio frequency (RF) chips from TSMC, with Apple using its own technology instead of chips from Samsung.
The chips are allegedly manufactured on TSMC's 6-nanometer process, which offers a smaller package with lower power consumption. This could perhaps lead to better battery life when using 5G technology, along with support for WiFi 6E.
Satellite Connectivity
The Qualcomm Snapdragon X65 enables some satellite connectivity features, and alongside the modem, Apple plans to implement satellite-based emergency features that will let users to send texts in emergency situations and report major emergencies in areas where there is no cellular coverage.
Emergency Message via satellite will allow users to text emergency services and contacts using a satellite network when there is no cellular or WiFi signal available. It will be a new communications protocol alongside SMS and iMessage, and it will feature gray message bubbles. Message length will be restricted.
Another feature will let users report major emergencies like plane crashes and fires using satellite networks. These features are still in development and will launch in 2022 at the earliest.
WiFi 6E
The iPhone 14 is expected to feature WiFi 6E connectivity, according to Apple analyst Ming-Chi Kuo. Kuo says that WiFi 6E will offer the high-speed wireless transmissions necessary for AR and VR experiences, and it is also expected to be used in the mixed reality headset that could come out in 2022.
WiFi 6E takes advantage of the 6GHz band in addition to the 2.4GHz and 5GHz bands to increase bandwidth and cut down on interference, while also offering the performance boost and low latency provided by the WiFi 6 specification.
2TB Storage?
With the iPhone 13 Pro models, Apple added a new 1TB storage tier, and rumors suggest that with the iPhone 14 upgrade, Apple could increase that even further to 2TB. This rumor comes from a source that's not always accurate, however, so it should be viewed with some skepticism until backed up by another more reliable source.
No Physical SIM Slot
The iPhone 14 models may launch without a physical SIM slot, with Apple transitioning to an eSIM-only design. Apple is allegedly advising major U.S. carriers to prepare for the launch of eSIM-only smartphones by 2022, which suggests some iPhone 14 models may be the first to come without a SIM slot.
With the iPhone 13, Apple provided some models without a nano-SIM in the box, with cellular plans instead being able to be activated using eSIM. An eSIM allows for cellular plans to be added to a device without using a nano-SIM.
eSIM functionality is not available in all countries, so iPhones sold in some areas will need to continue to offer a nano-SIM slot. In countries where a SIM-free iPhone is available, it may be optional, with consumers still able to choose a version with a SIM. There are more than 60 countries that support eSIM, with a list available on Apple's website.
iPhone 14 Launch Date
Apple is expected to introduce the iPhone 14 models at an event that's likely to be held in September 2022, if Apple follows previous launch timelines. Most iPhone events take place during the first or second week of September.
Future iPhone Rumors
In 2023, Apple could get rid of the hole-punch cutout too, resulting in an all-display design with no notch and no holes, though display analyst Ross Young has said that all 2023 models will have a dual-hole cutout similar to this year's iPhone 14 Pro models. The 2023 models will use the same design with circular cutout and pill-shaped cutout, and the feature won't be limited to the Pro models. The pill and hole design could shrink, but it will be a few years before Apple is ready for full under-display Face ID.
In-House Modem Chips
Apple is working on creating its own modem chips that are designed in-house, much like the Apple silicon and A-series chips, which will allow the company to reduce its reliance on modem chip vendors. Apple has been working on the modem for several years and development accelerated after Apple acquired the majority of Intel's smartphone modem business in 2019.
Apple analyst Ming-Chi Kuo recently said that Apple could transition to its own 5G modems as early as 2023. Once Apple comes out with its own modem designs, it will no longer need Qualcomm. 2023 is the "earliest" date, but multiple rumors have suggested that Apple chip supplier TSMC will be ready to manufacture Apple's modem chips in 2023.
Periscope Lens
If a periscope telephoto lens is not ready to debut in the 2022 iPhone models, it could instead be introduced in the 2023 iPhone models.
Under-Display Face ID
Multiple rumors have suggested that Apple is working on a way to put the hardware for Face ID under the display to get rid of the notch. It was initially thought that Apple could adopt under-display Face ID technology as soon as 2022, but display analyst Ross Young says that components like the infrared camera will not be moved under the display until 2023 or 2024, and Apple analyst Ming-Chi Kuo has also pointed to 2023 as Apple's target date for under-display Face ID functionality.
According to Korean website The Elec, Samsung is developing under-panel camera technology that will be used for an under-screen Face ID system for Apple's iPhone 15 Pro models in 2023.
Foldable iPhone
Further in the future, Apple could potentially introduce some kind of foldable iPhone, based on various rumors and patents the company has published, as well as competition from companies like Microsoft and Samsung, which have developed foldable smartphones.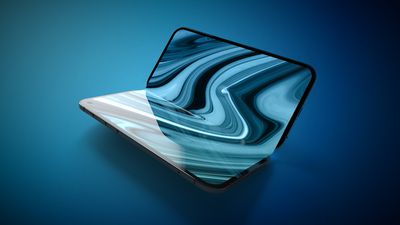 A mockup of what a foldable iPhone could look like
According to Bloomberg, Apple has started "early work" on an iPhone with a foldable display, but the company has not yet committed to releasing a foldable device. Rumors suggest a foldable iPhone could come in 2023 at the earliest, but that 2024 is a more likely target date.
For details on what we know about Apple's work on folding devices, make sure to check out our foldable iPhone guide.
iPhone 14 Timeline